Location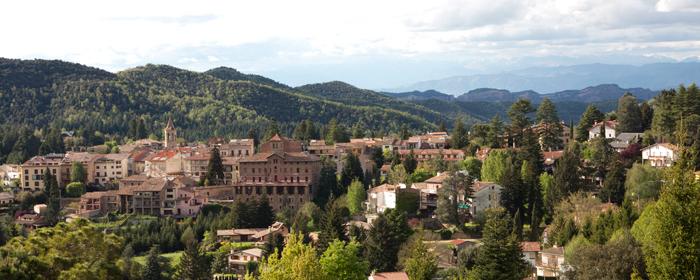 The village of Viladrau is located on a hill at 840 m.a.s.l., on the north slope of Matagalls and close to the right bank of the Riera Major.
A large proportion of its land forms part of the Montseny Natural Park, created in 1987. The Special Protection Plan for the slopes facing Barcelona was approved in 1977, and the plan for the Girona slopes was approved in 1978. During this same year, UNESCO included Montseny in the World Network of Biosphere Reserves of the MAN (Man and the Biosphere) programme.
The municipality, located in the south east of the district of Osona but belonging to the province of Girona, is largely mountainous and wooded. To the south, it stretches as far as the sub-district of Les Guilleries and to the north towards Montsent, covering the northern slopes of Matagalls as far as the summit (1697 m.a.s.l.).
The area has spectacular landscapes and places of outstanding natural beauty and is favoured by a climate that is fresh in summer and dry in winter. It is a privileged space that is given an eminently bucolic spirit by its nature, light, aesthetics and tranquillity.
Vildrau, which is strategically well communicated by the Eix Transversal (C-25) and by the C-17, is just:
The village of Viladrau is located on a hill at 840 m.a.s.l., on the north slope of Matagalls and close to the right bank of the Riera Major.A large proportion of its land forms part of the Montseny Natural Park, created in 1987. The Special Protection Plan for the slopes facing Barcelona was approved in 1977, and the plan for the Girona slopes was approved in 1978. During this same year, UNESCO included Montseny in the World Network of Biosphere Reserves of the MAN (Man and the Biosphere) programme.The municipality, located in the south east of the district of Osona but belonging to the province of Girona, is largely mountainous and wooded. To the south, it stretches as far as the sub-district of Les Guilleries and to the north towards Montsent, covering the northern slopes of Matagalls as far as the summit (1697 m.a.s.l.).The area has spectacular landscapes and places of outstanding natural beauty and is favoured by a climate that is fresh in summer and dry in winter. It is a privileged space that is given an eminently bucolic spirit by its nature, light, aesthetics and tranquillity.Vildrau, which is strategically well communicated by the Eix Transversal (C-25) and by the C-17, is just:
75 km from Barcelona
55 km from Girona
55 km from the Costa Brava
70 km from Manresa
20 km from Vic